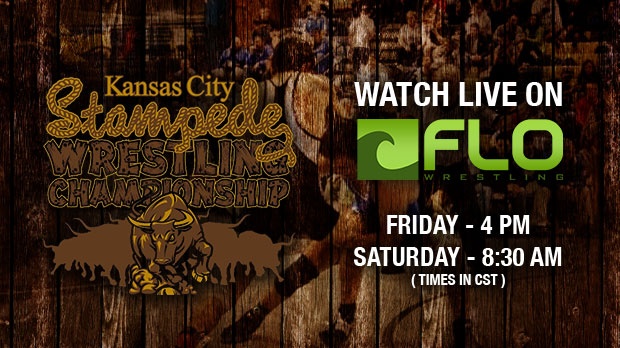 http://www.flowrestling.org/coverage/250050-Kansas-City-Stampede/article/16348-KC-Stampede-The-Toughest-Tournament-in-the-Midwest-GONE-LIVE?Ref=ourflashkcclassicgoneliverelease
The Kansas City Stampede has evolved into a monster tournament. Led by the 9th ranked Allen Eagles, the field at KC Stampede has national implications. It features some of the top teams from Missouri, Texas, Oklahoma, Iowa, Georgia, Nebraska, Tennessee, and Kansas.
On the individual side, competition will be fierce. 120 and 145lbs feature 5 nationally recognized wrestlers. Headlining the event are Fargo National Finalists Bo Nickal (Allen) and Zach Beard (Tuttle), and Super 32 Champs Ryan Millhof (Collins Hill) and Grant Leeth (Kearney). 113 should be one to watch as well: the weight boasts super 32 finalist, Sean Russell, as well as three Fargo freestyle All-Americans in Ke-Shawn Hayes, Davion Jeffries and Jaret Singh.
Flowrestling will bring you unprecedented coverage of the Stampede with 13 MATS STREAMED LIVE! You can view the live feed through our Tech Wave feature all weekend. Don't miss the nation's top talent compete at the KC Stampede.
Seven Fab 50 teams set to compete in Kansas City
http://intermatwrestle.com/articles/10924
12/12/2012
Josh Lowe, InterMat High School Analyst
Regardless of the event's name over the last few years ... and lord knows there's been a new one almost every year, the field has always been excellent and it continues to grow in quality. Thirty-six of the finest teams from the central part of the United States will assemble in Kansas City on Friday for two days of excellent wrestling.
This includes seven teams currently in the InterMat Fab 50: No. 13 Allen, Tex., No. 20 Collinsville, Okla., No. 23 Tuttle, Okla., No. 26 Edmond North, Okla., No. 30 Kearney, Mo., No. 33 Blue Springs, Mo., and No. 38 Bettendorf, Iowa. Also in the field are three other teams that won state championships this past year -- Arkansas City, Kan., champions Collins Hill, Ga., and Skutt Catholic, Neb. Other teams meriting attention this weekend are Christian Brothers, Tenn. and Park Hill, Mo.
Kaleb BakerFive wrestlers that won titles in last year's tournament return, and seek to win yet another title at the Kansas City Stampede (formerly the Kansas City Wrestling Classic): No. 4 Sean Russell (Collins Hill, Ga.) at 113 pounds, No. 20 Fredy Stroker (Bettendorf, Iowa) at 126, No. 15 Daniel Lewis (Blue Springs, Mo.) at 138, No. 11 Kaleb Baker (Christian Brothers, Tenn.) at 145, and No. 5 Zach Beard (Tuttle, Okla.) at 170. In addition, four other wrestlers in the field this weekend also won championships in either 2009 or 2010 at this tournament: No. 13 Jaret Singh (Kearney, Mo.) at 113, Noah Teaney (Oak Park, Mo.) at 120, No. 7 Brad Perkins (Oak Park, Mo.) at 126, and No. 15 Cain Salas (Blue Springs, Mo.) at 152